Is Calgary an Affordable Place to Live?
Posted by Kelly Kernick on Friday, November 11, 2022 at 2:09:30 PM
By Kelly Kernick / November 11, 2022
Comment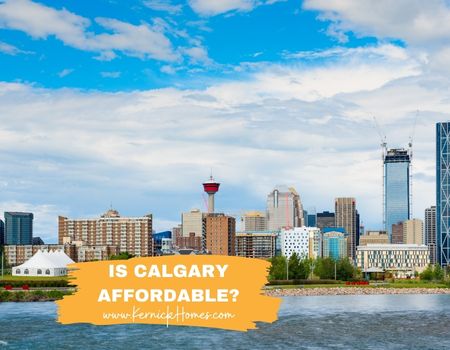 When you consider the schools, public transportation, parks, community amenities, restaurant scene, and quick access to amazing day trips throughout Alberta, you may assume that Calgary is not an affordable place to live. Surprisingly, Calgary has been ranked among the most affordable places to live in Canada this year. Offering the big city lifestyle with the affordability of a much smaller town, it's no exaggeration to say Calgary presents the best of both worlds.
Looking for affordable homes for sale in Calgary? We would love to help. Contact us any time to learn more.
What makes Calgary affordable?
There are a multitude of factors that make Calgary affordable. Consider your lifestyle and which of these elements might carry the most weight as you consider the affordability of a new home town.
Housing
The most influential factor in the affordability of a city is the cost of living. Your rent or mortgage is likely the largest of your monthly expenses, and probably the expense you are most motivated to keep within your budget.
In Calgary, you can find affordable homes for sale, under $500,000, in any of the city's quadrants. Whether it is a condo, townhome, bungalow, or single family home, we can help you find a home that is within your budget to make living in Calgary affordable.
Public Transportation
Calgary's public transportation system is one of the best in the province, and makes commuting throughout the city both affordable and accessible. The C Train offers free routes throughout downtown and affordable commuting all throughout the city. Many Calgarians opt to commute with the public transport available, making travel throughout the city efficient for both your time and money.
Entertainment
Finding affordable ways to enjoy your time off is one of the best ways to make a city accessible. In Calgary, there are many ways to find entertainment and outdoor recreation for an affordable price, no matter your interests or the ages of members of your household.
An impressive networks of parks, hiking trails, and other outdoor recreation (including many dog parks and mountain biking trails) make free entertainment available any day of the year. A diverse array of restaurants and entertainment choices are also present in Calgary, no matter how much you plan to spend on your day off.
Where can I find affordable homes for sale in Calgary?
The good news is, there are affordable homes for sale in all quadrants of Calgary. Whether it's a condo, townhome, or single family home that you are after, we can help you find one. If you are concerned about changes in the market and making sure you can buy a home that comfortably fits your budget, we are ready to help. Contact us any time to get started.