Reasons to Live in a Calgary Satellite Town
Posted by Kelly Kernick on Wednesday, December 7, 2022 at 5:11:03 PM
By Kelly Kernick / December 7, 2022
Comment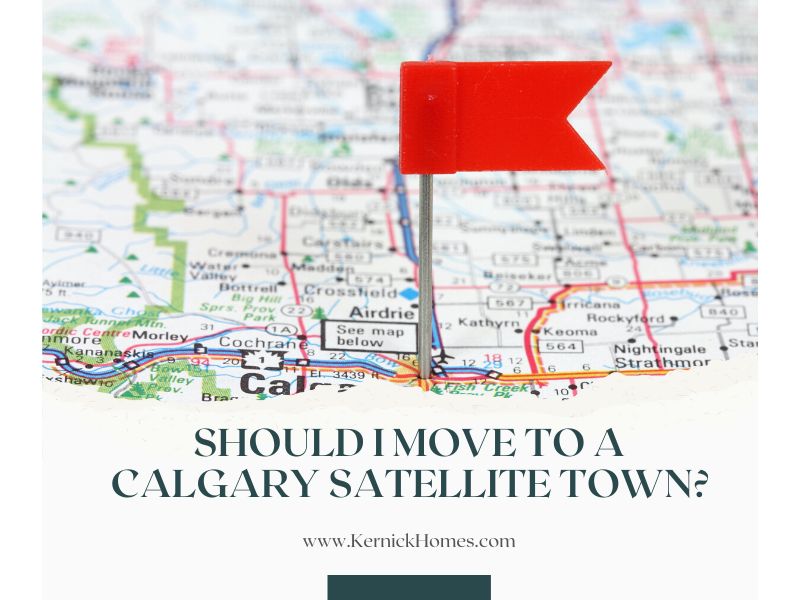 Calgary has grown significantly in recent decades, as more people realize that is is one of the best cities in Alberta. Offering great schools, affordable real estate, fun events all year long, beautiful outdoor recreation, and a thriving job market, it's no surprise that the city has grown so much. One of the urban planning strategies that has allowed Calgary to grow without becoming overwhelmed or overcrowded is the development of satellite towns.
Are you considering moving to a Calgary satellite town? We would love to help you find the home that is ideal for you. Contact us any time to learn more.
In the meantime, let's talk a bit more about why a Calgary satellite town might be right for you, and how to choose the right location for your next home.
What is a satellite town?
A satellite town is a small metropolitan area that is deliberately designed by urban planners near a larger metropolitan area to provide a similar culture and atmosphere while avoiding the overcrowding of the city or overwhelming of city resources and infrastructure.
Satellite towns allow people to continue moving into the area without creating a problem for traffic, schools, or other natural consequences of city growth. They are designed as a solution that allows the city to expand in an effective way.
What are the satellite towns surrounding Calgary?
Calgary's urban planners have designed 8 satellite towns that provide residents with an opportunity to enjoy the best parts of Calgary without creating overcrowding. Each satellite town has its own unique benefits and is located within a short driving distance of the Calgary downtown core.
Airdrie
Airdrie is a safe and family friendly community with a wide range of real estate choices available, located north of Calgary. Affordable housing, without sacrificing safety or access to amenities, is a hallmark of this satellite town.
Beiseker
Beiseker is located about 70 kilometres northeast of Calgary, the furthest satellite town from the downtown core. It offers a beautiful rural atmosphere that takes advantage of the region's natural beauty.
Chestermere
Chestermere surrounds the beautiful Chestermere Lake and is located just east of Calgary. This is a popular satellite town choice for those making a daily commute into Calgary as it is easily accessible with a short drive on 17th Avenue.
Cochrane
Cochrane is located about 18 kilometres west of Calgary, and is one of the fastest growing communities in all of Canada. Growing to become one of the larger towns in Alberta, it offers wonderful amenities for families.
Crossfield
Crossfield is about 40 kilometres north of Calgary along the Canadian Pacific Railway running from Calgary to Edmonton. Founded in the 1890s, it is a town with a long history and an established community of friendly people.
Irricana
Irricana is an agricultural community about 50 kilometres northeast of Calgary. This is an ideal location for those looking for a quiet, safe community away from the crowds.
Langdon
Langdon is located east of Calgary along Glenmore Trail. It is a peaceful community with a rural atmosphere, where you might find enough space to raise animals or have your own acreage. There are also plenty of new construction developments to choose from in the area.
Strathmore
Strathmore is about 50 kilometres east of Calgary. A wide range of housing options is available, ranging from small and affordable apartments to spacious single family homes on acreage.
What are the benefits of living in a satellite town?
There are multiple benefits that influence homebuyers to choose a Calgary satellite town. Some of the reasons you might want to consider a satellite town include:
A wider range of housing options, including more land
Real estate to fit a wider range of budgets
Choose from different community atmospheres while still enjoying quick access to Calgary
Enjoy the amenities of Calgary nearby, while benefiting for a small town atmosphere and less traffic and crowding
How can I choose the right location for my next home in Calgary?
As you consider whether to buy a home in Calgary or in one of Calgary's satellite towns, start with these questions to guide your decision making process:
How quickly do I want to access downtown Calgary?
Am I looking for a walkable community?
What are my top priorities in a home town?
How long do I plan to live in this location? What changes in career or family can I anticipate during that time?
How important is the local school district to me?
How important is local nightlife to me?
To learn more about finding homes for sale in Calgary or a Calgary satellite town, contact us any time!