Maximizing Resale Value with a Finished Basement in Calgary
Posted by Kelly Kernick on Wednesday, January 18, 2023 at 4:12:06 PM
By Kelly Kernick / January 18, 2023
Comment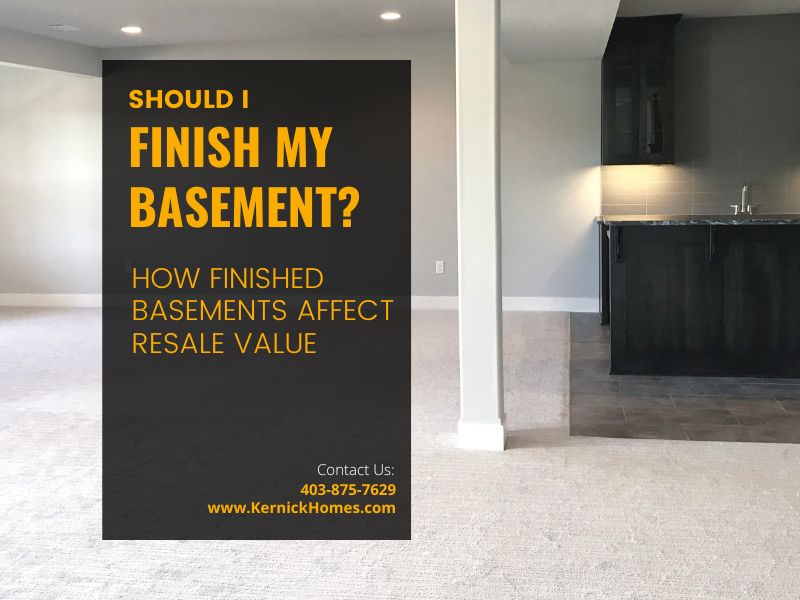 Now is a great time to sell your home. With home prices that have steadily increased in recent years, many Calgary homeowners find themselves with substantial home equity that can be leveraged in multiple ways for a successful home sale.
One way to do this is to reinvest some of your equity into finishing your basement. Increasing the livable square footage of your home will grow its appeal to a broader range of potential buyers, as well as increase its resale value.
To learn more about selling your home in Calgary, reach out to us any time; we are here to help!
Wondering if finishing your basement is worth the investment? Here's what you might want to consider.
Does a finished basement increase resale value in Calgary?
The short answer to this question is maybe. While a finished basement cannot be counted in the overall square footage of the home, it is still usable space that can attract more buyers. Depending on how the finished basement is designed, or even just how it is staged, it may end up a selling point for your potential buyers.
Calgary walkouts are particularly attractive and can result in higher resale value because of the many benefits they offer. A traditional, fully underground basement can do the same. While it does not increase the listed square footage on your home's listing, it will make your home stand out from a comparable property without a finished basement.
Imagine this: your home is a 4 bedroom, 2 bathroom single family home with one living space. A neighbor's home with the same specs is for sale just down the road. The only difference is your has a fully finished basement space, perfect to be used for additional living space, featuring an additional half bathroom and room for home fitness equipment.
While the two houses appear quite similar when you look at their bedrooms, bathrooms, and square footage, yours will be significantly more comfortable for a larger household or a family who like to entertain.
Can all basements in Calgary be finished?
Not all basements in Calgary can be finished. Before deciding to finish your basement, make sure that you will be able to complete the project, by talking with a professional contractor. If you plan to do all the work yourself, be sure you are aware of any plumbing, electrical, or gas lines that will need to be run and find out if it is safe and legal to do so in your unique space.
If you plan to create a full basement suite with a bathroom and kitchenette space, take the time to be sure you can do so legally. In the unfortunate case of renovating the basement and later finding out it was not done up to Calgary regulations, you may end up with a bigger problem on your hands.
What counts as a walkout basement?
There are many homes in Calgary that feature walkout basements. There are many benefits of owning a Calgary walkout home, and they are distinct from traditional underground basements.
A walkout basement is built partially underground, usually when a house is built in a hilly area where the front yard is at a different elevation than the back yard. Calgary walkouts are generally finished, and treated as additional livable square footage. If you are in a rare situation where you own a walkout that is unfinished, you may benefit from finishing it before selling.
How can a finished basement be used?
A finished basement may not count toward the technical square footage of the home, but it can still increase the desirability and functionality of it. That space can be used in any number of ways, some of the most popular of which include:
Game room
Home theater or media room
Guest suite or additional bedrooms
Home office
Home gym
Additional entertaining space
Play room
The opportunities presented by a finished basement are limited only by your imagination. If you are wondering how to stage the space in the most favourable way for resale, we would love to help. To learn more about preparing your home for a successful sale, contact us any time!