Finding a Suited Home in Calgary
Posted by Kelly Kernick on Wednesday, October 5, 2022 at 5:33 PM
By Kelly Kernick / October 5, 2022
Comment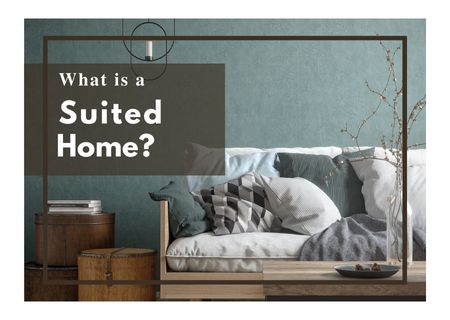 A suited home can be an ideal housing choice for a variety of people. Perhaps you are looking to invest in an income property that can host two tenants at once, or maybe you'd like to move into a home that can accommodate your adult child or aging parent while providing them with privacy and independence.
If you are considering buying a suited home in Calgary, we can help you find the ideal property. Keep reading to learn a little more about this unique style of housing!
What is a suited home?
A suited home is a style of home that features a dwelling with it's own entrance, living space, bathroom, and kitchen. The suite is attached to the home, also sometimes called a basement apartment, granny flat, secondary suite, mother in law's quarters, or a variety of other terms.
Suited homes come in a variety of styles, with single story, two story, and even three story floor plans. You will find some new construction developments that offer you the opportunity to customize a suite, as well as existing homes with a variety of suite styles. You may find that the suite has a door that leads directly into the primary residence, while other suited homes have two distinct entrances similar to a duplex.
Who should consider buying a suited home?
Suited homes are an excellent investment for many buyers. The addition of the suite generally brings the price point a bit higher, so the ideal buyer will be someone who can secure mortgage approval for a budget that will accommodate this. Buying a suited home is ideal for those who:
Are preparing to welcome a relative into the home and would like to provide private, independent living space
Would like to offer overnight guests a luxurious suite for their stay
Have decided to get into the short term vacation rental business
Are looking for an investment property
What are the benefits of owning a suited home?
Owning a suited home provides you with versatility. There are so many ways you can leverage ownership of a suited home, to create solutions within your extended family or generate passive income.
A suite can be the ideal space for those who anticipate welcoming an adult child, disabled sibling, or aging parent into their home at some point. This solution maintains the privacy and independence of everyone involved, while allowing you to support your relative. It is often far more affordable to offer the suite in the home to a relative than it is to find another housing situation for them, and it also allows you to have the perfect blend of connectedness and privacy.
A suited home also presents a variety of income opportunities. You can opt to live in the main house while renting out the suite, or rent the entire property out to two tenants. This is an excellent way to make housing more affordable or maximize your passive income.
Where can I find a suited home in Calgary?
There are many communities throughout all Calgary quadrants that include suited homes. You can even find some new construction developments that include the option to incorporate a suite into the design.
The best way to find the suited home you are looking for in Calgary is to work with an experience agent, and that's where we come in. We would love to help you find the home that meets every need. Contact us any time to get started on the search for your ideal home in Calgary!