Favourite Calgary Lake Communities in 2023
Posted by Kelly Kernick on Wednesday, March 29, 2023 at 9:46:19 AM
By Kelly Kernick / March 29, 2023
Comment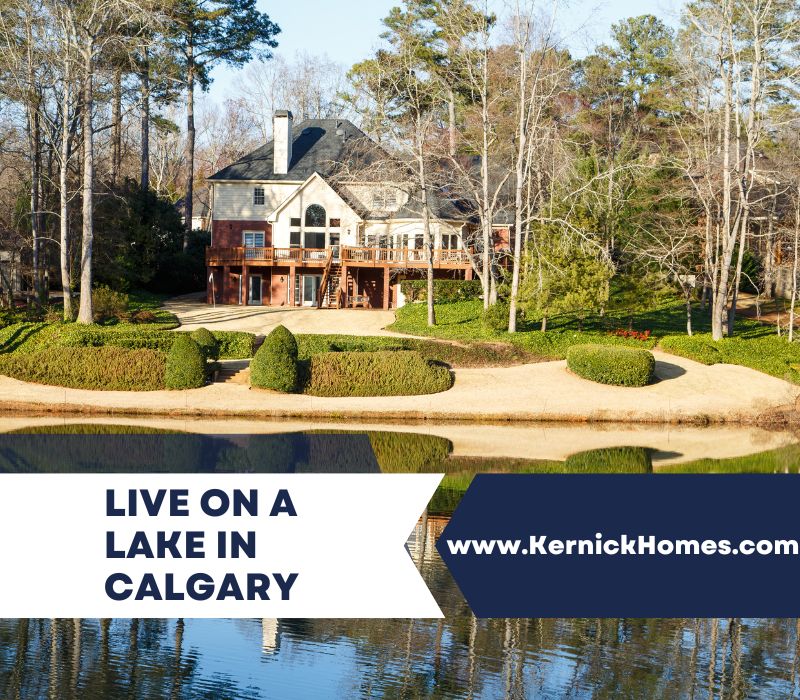 It's no secret that Calgary is a city filled with natural beauty. Some of the most scenic neighbourhoods in Calgary are these favourite lake communities. If you are looking for homes for sale in Calgary, or a house for sale near a lake in Calgary, contact us any time to learn more.
There are many lake communities in the city, but these 4 have been some of the top choices recently in the Calgary MLS.
Auburn Bay
Auburn Bay is a community that surrounds a sparkling 43 acre freshwater lake in the Southeast quadrant of Calgary. There are a variety of housing choices in Auburn Bay, including large single family homes, cozy cottages, condos, and row houses. Residents enjoy a scenic, peaceful atmosphere while being just minutes from the heart of downtown Calgary.
Wide sidewalks, nature trails, and an abundance of amenities make this a top choice for a Calgary lakefront neighbourhood. Amenities include:
Boat House & Dock
Fishing Dock
Toboggan Hill
Amphitheatre
Hockey & Skating Rinks
Tennis & Basketball Courts
Playgrounds & Picnic Shelters
Water Park & Waterfalls
Chestermere Lake
Chestermere Lake is located outside the city of Calgary, about 5 miles east. The lake itself is a man made reservoir that is popular for boating and water sports, and it is surrounded by many beautiful homes that feature private docks. Calgary residents who love to be out on the water love living near Chestermere Lake, where you are allowed to have boathouses and boat lifts next to your private dock.
There are many beaches along the perimetre of the lake, and the summer months are like paradise for Chestermere Lake residents who enjoy sailing, fishing, swimming, and more in the beautiful water. All year long, the views of the water contribute to an enjoyable atmosphere. Many of the homes near Chestermere Lake are large single family homes on the water, but you will also find some smaller and more affordable condos in the community.
Mahogany Lake
Mahogany Lake is the largest in Calgary, a 63 acre lake located in Southeast Calgary. The neighbourhood features green spaces, trails, and two private beaches with stunning mountain views. The abundant trails in the community are wheelchair accessible and are perfect for a jog or bike ride, surrounded by scenic wetlands, forested areas, and all kinds of natural beauty. The lake freezes over in the winter for even more fun, like skating and ice hockey.
Some of the most desirable Mahogany Lake real estate sits on two private islands in the middle of the lake, where large homes enjoy panoramic views of the water. There are also a variety of real estate choices in the areas surrounding the lake, including single family homes, condos, and townhomes.
McKenzie Lake
McKenzie Lake is located in Southeast Calgary and is primarily a luxury real estate community surrounding a 43 acre lake. There are a few affordable condos in the area, but the neighbourhood is predominately made up of large, luxury single family homes with access to the water. The lake features multiple launch points for motorboats, kayaks, and canoes, and the community is designed to accommodate enjoying the beautiful natural setting with sandy beaches and parks.
There is also a Beach Club in the community, where residents can enjoy special events and a coffee and snack bar. In the winter, residents enjoy a skating rink and space to enjoy winter sports, and the McKenzie Meadows Golf Club is a favourite amenity open whenever weather permits.
Want to learn more or check out some homes for sale near lakes in Calgary or any real estate listings in the Calgary MLS? Contact us any time.