Difference Between Calgary Condos and Townhouses
Posted by Kelly Kernick on Friday, September 23, 2022 at 10:03 AM
By Kelly Kernick / September 23, 2022
Comment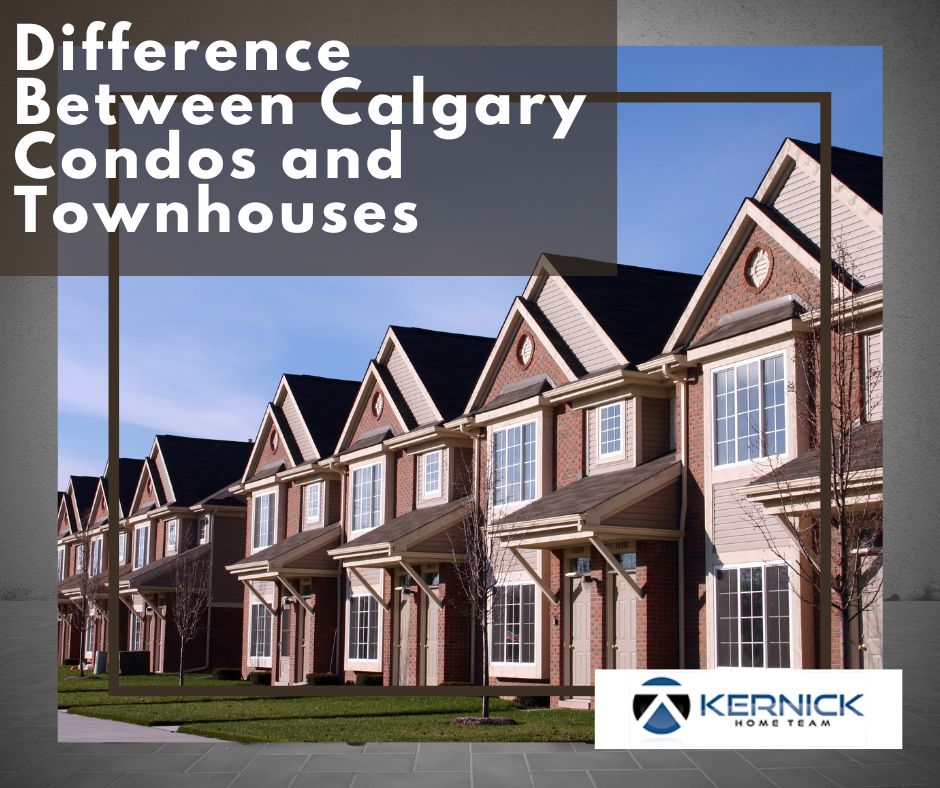 Considering buying in Calgary Alberta? If you're looking for that low-maintenance lifestyle a condominium or townhouse might be ideal. However, if you're going back and forth between a condo and a townhome you might be wondering what is the difference. This is a common question I get asked from many homebuyers looking for a low-maintenance property that they can still own rather than rent.
There is a difference between a condo in a townhouse. It all depends on how much ownership and responsibility the homeowner wants. The condominium is very similar to an apartment in that you do own it but it's usually one unit within a larger building. The townhouse might be a one or two story attached home but rather instead of a large building, it may only be attached by one or two walls. However, let's break down the difference between the two.
What is the difference between a Calgary condo and a Calgary townhouse?
What is a condo?
The term "condo" may evoke memories of grandma bought a condo down in Florida or high-end condominiums which might imply expensive. But that's not always the case. The condominium is simply an apartment that is owned by the inhabitant. Well, that's not exactly true as well because you can own a condominium and still rent it out yourself even though you don't occupy it.
A condominium is more of a apartment style living. The person that buys the condominium owns everything inside the walls of the unit and nothing outside. Everything outside of the unit including the buildings and exterior, roof, land, and any common areas, are owned by the condo association and a separate entity but can be enjoyed by the entire community.
Condos are not apartments but they can be units within a larger residential complex. The idea is that the homeowner owns and has exclusive rights to inside the unit but nothing around it and a condo is basically one level and may or may not include a loft.
What is a townhouse?
It townhouse on the other hand is similar to a traditional house and is typically multilevel. You might have a garage on the main level, living on the second level and bedrooms on the third or a combination thereof. Townhouses typically are attached to other townhouses within a complex by one or two walls rather than an apartment-style unit in a larger building. They may also have front or back yards.
Most of the time townhouses are not completely detached. There are detached condos and townhouses in a larger complex wherein the owner still owns everything inside the unit and is responsible for upkeep on the outside but the building maintenance and general common areas are handled by the Association. A townhouse means that the owner owns the interior and may be part of the exterior and if it is a PUD home, they may even own the land underneath it. Most homeowners are responsible for the upkeep and general maintenance of the property but if all of the townhouses are similar in style, color, and construction, the Association typically handles the maintenance.
Regardless, both condos and Calgary townhouses will have homeowner associations. This association will manage all the maintenance on the grounds, common areas, and any building maintenance. Each condominium or townhouse purchase and sale is different so you'll need to check with your CC&Rs which stands for covenants, conditions, and restrictions, before buying the property. You'll want to make sure you know exactly what is your responsibility and what is the homeowner Association's responsibility. You'll also need to verify that you agree to the terms and restrictions that come with living within the community. These typically will include pet restrictions, building restrictions, noise restrictions, parking restrictions, and any other details that the homeowner association chooses to enforce.
However, both options are fairly low maintenance. You do have to repair or replace, and keep up the interior of whichever home you choose. Depending on the location and the amenities that the community may provide, pricing can be all over the board. One is not necessarily less expensive than the other.
What to Know Before Buying a Condo
For more information on Calgary condos and Calgary townhouses, feel free to browse my website or check out all the newest listings for Calgary townhomes and condos below.