7 Benefits of Buying New Construction
Posted by Kelly Kernick on Wednesday, November 2, 2022 at 6:25:27 PM
By Kelly Kernick / November 2, 2022
Comment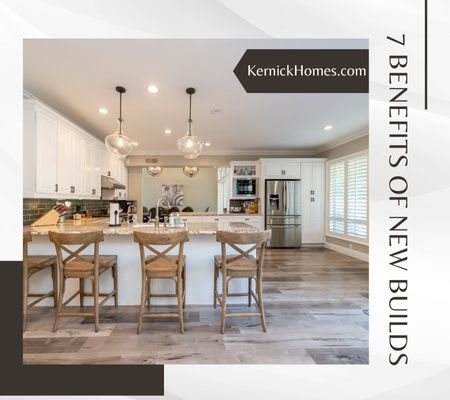 As more people realize what an amazing place Calgary is to live and raise a family, the demand for housing has steadily increased. This is evident in the number of new construction developments popping up throughout all quadrants of Calgary.
If you are considering whether a new construction home in Calgary is right for you, check out these 7 benefits of buying new construction and what you need to know about this unique process.
To learn more about finding homes for sale in Calgary, contact us any time! We would love to help you find your ideal Calgary neighbourhood.
1. Know the exact price of your home well in advance
As you shop for a home, you will always have a budget in mind, based on the amount you have been pre-approved to borrow or the cash you plan to spend. However, the exact purchase price is unknown until you have an offer accepted. When you set out to buy a new construction home, the price of it will be much more straightforward.
The price of the new build is determined by adding the base price, the price of the lot, and any upgrades or selection you make during the design process. You can opt for keeping the price totally predictable by choosing only the builder included options during the design process, or set a budget for yourself before making your selections.
Whatever your budget, many buyers of new construction homes find the predictable pricing to be a welcome change.
2. Potential to move into instant home equity
Depending on your builder's policies, buying a new construction home may offer you the opportunity to move into instant equity. If you lock in your purchase price at the time of signing the contract, the value of the home may increase past that by the time construction has been completed. In many cases, this results in being able to buy your home for the price it would have been months ago and benefit from the equity that grew during the building process.
3. Customize your floor plan and finishes
New construction homes include a spectrum of customization, with some offered without any custom options, others offered with a few design packages to choose from, and others offering total customization of the floor plan, finishes, and various features.
If building a truly custom home is not realistic for you, but you are drawn to the idea of designing the home yourself, a semi-custom new construction home is likely to be a perfect fit for you. Let us know what level of customization you are hoping for so we can help you select a builder that will be the perfect fit.
4. Meet neighbours who are new, just like you
When you buy a new construction home, in most cases you will be moving into a community of other new construction homes. This means entering a community of other people looking to make connections. Many people find that moving into a brand new neighbourhood makes connecting and establishing a friendly and supportive network easier than it would be in an existing community.
5. Home warranties and minimal maintenance
A new home will come with new warranties, and that means extra peace of mind for you as the homeowner. Your builder will likely offer a warranty on their construction, and the appliances and systems in home likely feature manufacturer warranties in addition to this.
6. High-efficiency features
If energy efficiency and environmental impact are important to you, buying a new construction home will be a dream. Built with the newest appliances, insulation, and building materials, you will benefit from a higher level of efficiency than you would find in a home that is decades old.
7. Brand new community amenities
Find out what amenities are planned in the neighbourhood to get an idea of the lifestyle you can enjoy as a new construction homeowner. Many new neighbourhoods in Calgary feature impressive amenities that will make you happy to never leave home! These amenities will be fresh and new, ready to be utilized by you and your family as some of the first to enjoy them.
Want to learn more? We are here to help! Contact us any time.