5 Tips for Buying a New Build in Calgary
Posted by Kelly Kernick on Wednesday, December 14, 2022 at 10:55:06 AM
By Kelly Kernick / December 14, 2022
Comment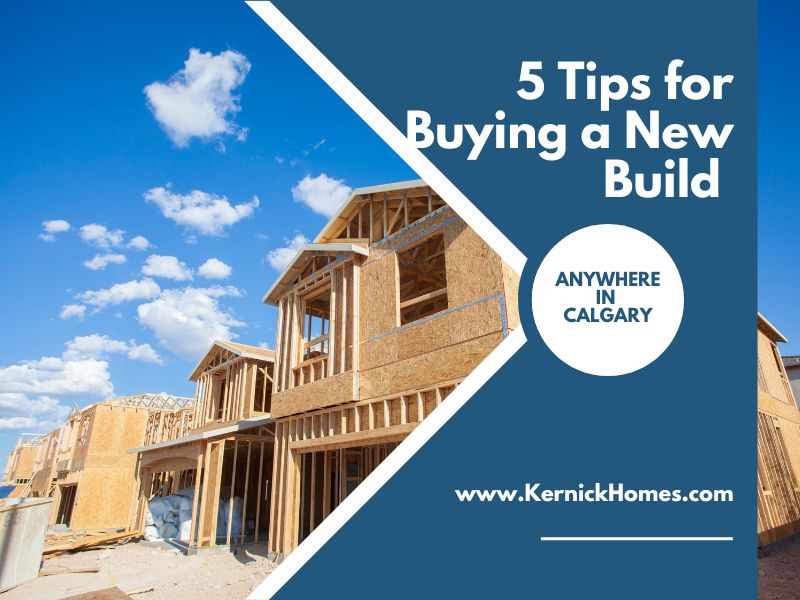 There are many advantages to buying a new build in Calgary, with multiple communities to choose from throughout the city. New construction homes often offer buyers a chance to customize their home, enjoying a personalized and move-in ready property. There are also many community benefits, with brand new neighbourhood amenities to enjoy.
To learn more about new build homes for sale in Calgary, contact us any time.
Before buying a new build, pay attention to these 5 tips.
1. Understand your financing options
Financing for new build homes is similar to other real estate, but there are some unique details. Many home builders have a lender, or a few, with whom they work. This might be an in-house lender, or it may be an independent company with whom they have partnered. In many cases, choosing the builder's preferred lender will come with some incentives, like a credit for interior upgrades or lower closing costs.
Make sure to get pre-approved at multiple lenders, comparing the bottom line from the builder's preferred lender to your other options. Because each buyer's situation is so unique, there is no one-size-fits-all answer to which financing choice will be best. The best way to find out what financing is right for you is to explore all of your options and negotiate with multiple lenders; keep in mind that these lenders are in competition with each other for your business, which puts you in a position to negotiate.
2. Find out what model home features are available to you
Most new build communities will have a model home, or a few, to walk through and get an idea of what your home will look like. In many cases, the floor plan of the home is the same as what yours will be, but the interior design and finishes may lead you to believe you are getting more than you are.
Find out which features in the model home come standard as builder-included elements, which are available to you as an upgrade, and which were simply implemented by designed for the model home that are not going to be a part of your design options.
3. Know that your timeline may affect which builder you choose
Different builders have different build timelines, of course subject to chance based on weather, supply chain, and other unforeseeable events. If you have a specific timeline you need to work with, make sure we know what this is so we can find a builder that will meet your needs.
In general, builders that offer increased customization features will have a longer lead time for building a home. New builds that are offered as spec homes are often available as quickly as, or even more quickly than, a standard home. There are also many situations along this spectrum. We can help you find a home that suits your timeline, so let us know what you need.
4. Ask all your questions
Don't be shy about asking questions. There is no reason to assume or feel sheepish about asking how the process works. The builder's sales representative and your agent are there to help you understand each step of the home build process, so there is no reason to keep yourself from asking all of your questions.
5. Even new build homes should be inspected
As you near the exciting end of the home build journey, don't assume that the home is perfect just because it is brand new. We still recommend hiring an independent home inspector to review the condition of the home. The benefit of having the home inspected at the beginning is the opportunity to catch any potential issue before it creates a problem in your home. In most cases, any problem discovered will be handled by the builder or covered under a manufacturer's warranty.
Want to learn more about new build homes for sale in Calgary? We can help. Contact us any time to get started.