5 Parks to Check Out in Calgary
Posted by Kelly Kernick on Monday, June 5, 2023 at 2:12:30 PM
By Kelly Kernick / June 5, 2023
Comment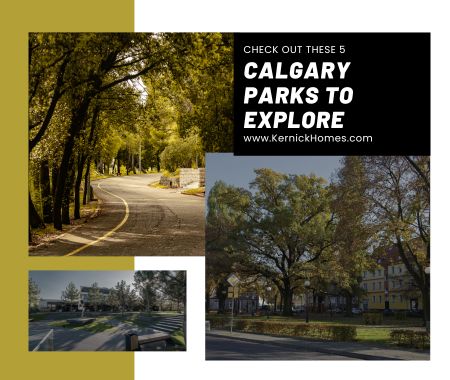 As the weather warms up, it is the perfect time to explore the many beautiful parks in Calgary. One of the best parts of living in this city is having access to a diversity of attractions, from hip nightlife and urban restaurants to sprawling nature preserves and community parks.
Want to learn more about living in Calgary? We can help you find homes for sale in Calgary to meet your unique needs. Contact us any time to learn more.
To explore different communities of Calgary this spring and summer, pack a picnic or ride your bike to check out these 5 parks.
1. Confederation Park
Confederation Park was designed to celebrate Canada's 150th birthday and beautifully preserves the natural wildlife and wetlands. A natural playground surrounds a Voyager canoe that has been tipped over, in addition to a multi-level fort and water pump that keeps kids engaged and playing for hours. If you are looking for a unique playground to explore in Calgary, Confederation Park is the obvious choice.
The park also features natural wetlands where you can expect to enjoy wildlife sightings. During the holidays, don't miss the Lions Festival of Lights, where the park is filled with over 500,000 string lights to celebrate the season.
2. Fish Creek Provincial Park
One of the largest parks in North America, and certainly the largest in Calgary, Fish Creek Provincial Park has enough space to keep exploring and finding new spots every time to you visit. It covers over 13 square kilometres with both the Bow River and Fish Creek winding through it.
The park is home to over 200 bird species that make it a paradise for avid birdwatchers. Other features of the park include biking and walking trails, boat access to the Bow River, fishing, swimming in the seasonally open Sikome Aquatic Facility, rollerblading paths, cross country skiing and snowshoeing.
3. Nose Hill Park
Nose Hill Park can be accessed from many of the residential neighbourhoods in Northwest Calgary, with direct walkable access from 12 surrounding communities. The park features generous off leash space for dogs to explore, as well as walking and hiking trails. It is one of the best places to take in a view of the city, and offers plenty of space on even the busiest days with over 11 square kilometres of parkland.
4. Prince's Island Park
Prince's Island Park is a popular downtown oasis, named for Peter Anthony Prince, who was a lumberman responsible for much of the growth in Calgary in the 1880s. The park is home to festivals and celebrations throughout the year and is also a picturesque place to bring a book or a picnic. You will also find an award winning restaurant in Prince's Island Park, perfect for a unique and romantic date.
5. Shouldice Park
Looking for somewhere to plan a fun day out with friends? Head to Shouldice Park, where you will find picnic sites, firepits and barbeque stands, soccer fields, baseball diamonds, access to the Bow River, pay to play batting cages, and tennis courts. There is also a 15,000 square foot inclusive playground, an innovative design that welcomes children of all abilities.
Are you ready to begin the search for houses for sale in Calgary to meet your unique scenario? We can help. Contact us any time to get started!