What to Do First When You Move Into a New House
Posted by Kelly Kernick on Thursday, May 18, 2023 at 9:32:16 PM
By Kelly Kernick / May 18, 2023
Comment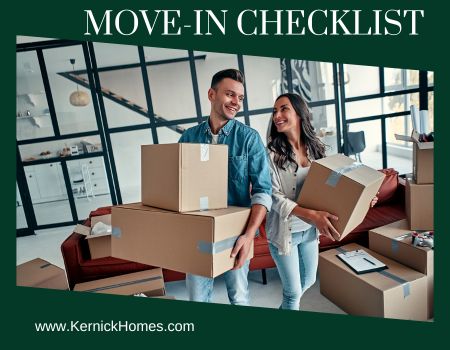 After buying your new home, the moving in process involves a lengthy task list before you can fully settle in. Prepare for the move with this list of the first things you need to get done after moving in.
Looking for homes for sale in Calgary? Whether you are search of a Calgary bungalow that will be affordable and comfortable as your first home or luxury Calgary real estate that will be your dream home, we can help. Contact us any time to learn more.
Ready to make your move-in checklist? Start with these essential tasks.
Transfer Utilities
Ideally before closing on your home, transfer your utilities to the new address so that everything is ready for move-in day. Make sure to have water, power, gas, and waste management set up. Don't forget about internet, TV, and even other services you may have like security, lawn care, or housekeeping. The more you can transfer before moving in, the more quickly you can feel at home in the new house.
Change the Locks
Right after moving in, change the locks in the house. This will provide security and peace of mind, as so many people have had access to the keys during the time the home was on the market, and because the previous owners may have made copies that have been given out to friends or family. Changing the locks is a relatively quick and inexpensive project that will help you sleep better knowing you are safe in your new home.
Identify the Main Shut-off Valve
While we all hope we don't need to use it, every homeowner should know where their main shut-off valve is. The last thing you want to be doing in an emergency is frantically searching for it. Most houses have the main shut-off valve located next to the water meter, so start by checking there. In the unfortunate case of a burst pipe or plumbing leak, you can quickly limit the damage by turning to the shut-off valve.
Set up Mail Forwarding
Avoid annoying delays or stressful problems with the mail by setting up mail forwarding. This will buy you some time to make sure your new address is listed with all your accounts, and that all of your personal contacts have your new information.
Deep Clean
If possible, deep clean the new home before moving in any of your belongings. This is the easiest time to efficiently give the new place a thorough cleaning. Unless you are buying a new construction home in Calgary, your new home will naturally have some wear and tear (and possibly dirt) that requires some attention.
Before moving in your furniture and belongings, wipe down all surfaces, thoroughly cleaning the walls, floors, lighting fixtures, and any spaces that will be hard to reach after moving in. This is also a great time to hire housekeepers for the task if you prefer to outsource the task.
Contact Your New HOA
If the new home you are moving into is part of an HOA managed community, reach out to the HOA to be sure you have all of the relevant information. This might include codes or keys to access community amenities, a copy of community guidelines, or access to websites, apps, and other online accounts you may need.
Meet Your Neighbours
Shortly after moving in, take the time to meet your neighbours. Just a quick greeting is often enough, or you can take it a step further and drop off cookies while introducing yourself. Even an informal introduction is a great way to quickly get connected in your new community.
Ready to learn more about finding your home in Calgary? Contact us any time.