What Makes Calgary a Great Place to Raise a Family?
Posted by Kelly Kernick on Friday, September 29, 2023 at 6:57:47 PM
By Kelly Kernick / September 29, 2023
Comment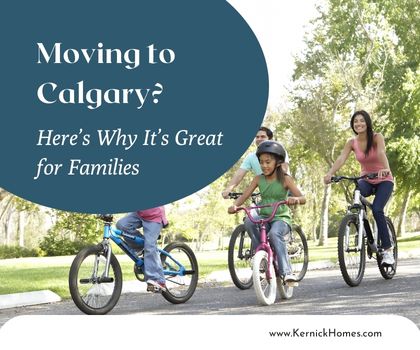 Choosing the location where you will raise your family is a life-defining decision. If you are considering where to live as you raise your family, you are likely taking into consideration the affordability of the housing, the job market, the local schools, and the lifestyle the city provides.
Calgary is known as a family friendly city for many reasons. Its combination of a strong economy, excellent education system, diverse recreational opportunities, and a welcoming community make it an attractive place for families to live.
We can help you find homes for sale in Calgary that are perfect for families. Contact us any time to learn more, and keep reading for some key factors that contribute to Calgary's reputation as a family-friendly city.
Economic Opportunity
Calgary is known for its robust job market and a strong economy, primarily driven by the energy sector. The city offers a wide range of career opportunities, which can provide stability and financial security for families.
As the city has continued to grow in recent years, the local economy continues to thrive and opportunity to start new businesses or progress in your career are growing with it.
Education
Calgary boasts a well-regarded education system, with numerous public and private schools at all levels, from preschool to high school. Additionally, the city is home to several post-secondary institutions, including the University of Calgary and Mount Royal University.
Family-Oriented Neighbourhoods
Many neighborhoods in Calgary are designed with families in mind. These areas often feature parks, playgrounds, and family-friendly amenities. Some popular family-oriented communities include Signal Hill, Bridlewood, and McKenzie Towne.
If you are looking for a home for your family in Calgary, we can help you narrow down your choices and find the neighbourhood that is best for you.
Recreational Opportunities
No matter the season, or where you live in Calgary, there is always something fun to do outside. Calgary offers a wide range of recreational activities for families. Fish Creek Provincial Park is a favorite location for families in the city, and it just one of many impressive local parks. The city has an extensive network of parks, bike paths, and hiking trails and the nearby Rocky Mountains provide opportunities for outdoor adventures like hiking, skiing, and camping.
The city places a strong emphasis on preserving green spaces and natural beauty. Families can enjoy picnics, sports, and outdoor activities in Calgary's numerous parks and recreational areas.
Healthcare
Calgary is home to world-class healthcare facilities, including the Alberta Children's Hospital, ensuring access to high-quality medical care for children and families. While families hope to never need a children's hospital nearby, it does provide peace of mind to know that one of the best in the province is just minutes from home.
Diversity, Inclusivity, and Culture
Calgary is a beautiful place to grow up. The people of Calgary are known for their friendliness and strong sense of community. Families often find it easy to connect with neighbours and get involved in local events and activities.
The city is also home to numerous organizations and support networks for families, including parenting groups, community associations, and resources for children with special needs.
Calgary hosts numerous family-oriented events and festivals throughout the year, and offers permanent attractions for residents of all ages, too. Your family can enjoy the Calgary Stampede, Heritage Park, and the Calgary Zoo, among many other features like museums, kid-friendly restaurants, and nature preserves.
It's also a great place to raise a family because of the diversity. Calgary is known for its diverse population and welcoming atmosphere. Families from different cultural backgrounds will easily find communities and resources that celebrate their heritage and provide support.
Housing
One of the most significant deciding factors as you decide where to raise your family is finding family homes that meet your needs and budget. Calgary offers a variety of housing options suitable for families, from single-family homes to townhouses and condos. The city's diverse housing market accommodates various budget ranges.
Many families find that Calgary is the perfect place to buy a home, with something to meet such a wide range of needs. Even if you are just getting into real estate and preparing to buy your first home, you can consider house hacking with a duplex in Calgary, or look for an affordable home that can help you get started.
Ready to learn more about living in Calgary? Contact us any time.