Tips for Hiring a Contractor
Posted by Kelly Kernick on Monday, December 10, 2018 at 11:56 AM
By Kelly Kernick / December 10, 2018
Comment
You've got the project plan and budget, but you don't know how to do a major renovation. It's time to find a contractor. Where do you start?
Survey Your Networks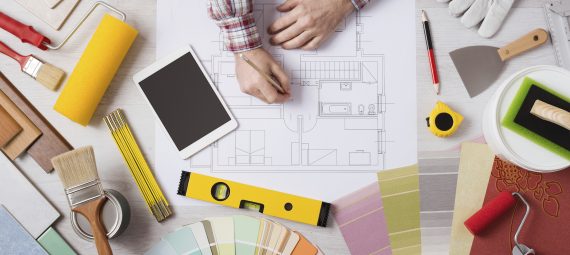 Talk to friends and family first. Your personal network can share their experiences with different home projects, costs, timelines, and contractors. Don't forget to reach out to different online forums and groups for feedback too. Keep in mind that everyone's opinion and experience is different and you'll need to evaluate the information for yourself before making any commitments.
Visit Your Local Home Improvement Store
Some stores offer home installation and renovation services. Speak to the project managers about your plan and budget to find out if this route makes sense for you. Contractors that offer services on behalf of the store are usually third party contractors who work according to the store's policies. If you decide to hire store services for your project, make sure you read all the fine print and understand the contract.
Go Online
A lot of information can be found on contractor review sites, home improvement project sites, home and garden media, and trade associations. You can see a contractor's work portfolio, read customer comments, check average prices for projects, and much more. Some sites allow you to contact contractors directly via email. As with any online media, review the security and privacy policies of the site before submitting any personal information. Also, always try to connect with the contractor offline so you can get to know the person you may be working with on your project.
Attend a Home Trade Show
Home trade shows are a great opportunity to meet potential contractors, and to research products or services all in one space. You can use this time to ask specific questions, see examples of their work, and even book appointments with them for consultations. Don't feel as though you have to commit to anything on the spot or provide your contact information. Take your time and respond when you feel comfortable.
Get a Minimum of 3 Quotes
Many trades a very busy and have long back logs of jobs. They will continue giving quotes but they will be very high. The thinking is if someone is crazy enough to pay me this price for the job they can cut in line and I can bump someone else a week or two. That means you'll be paying substantially more for someone to do your job and they will do it as fast as humanly possibly. Not an ideal situation. Find someone who is busy but not too busy, has good online reviews, and is personable and friendly (but not used car salesman friendly!) Hopefully these tips help with your next project:)