The Real Estate Classic: Half Duplex
Posted by Kelly Kernick on Tuesday, February 23, 2016 at 12:22 PM
By Kelly Kernick / February 23, 2016
Comment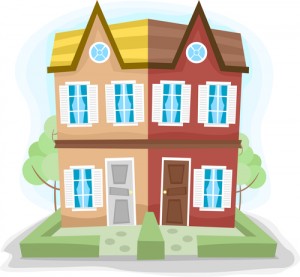 To buy or not to buy… a duplex that is. As far as I'm concerned, the duplex or the half-duplex is a Calgary real estate classic! Quick Google searches will have you convinced that duplexes are geared towards investment properties. However, I believe that if you're a first time homebuyer that wants to jump into the housing market, you can't go wrong with the half-duplex.
The Half Duplex
It's seemingly harder to become a homeowner now days, especially with stricter mortgage laws, larger down payments for homes over $500,000 and a slow economy. We would all love our first home to be extravagant, but the reality is that we all have different starting points. In the attached-homes market, the half-duplex are always affordable and are a great first home investment. Two major advantages of buying a half duplex are:
You can buy into a nice area at a lower price
No condo fees
I've known many clients that have entered the Calgary market with a half-duplex and after their property increased in value, they went on to buy great move-up homes. As first time homeowners (especially small families) you want to have affordable options that are not just limited to condos. The calgary half duplex satisfies the needs for more square footage and having an actual backyard.
The Duplex as an Investment Property
Buying a duplex as an investment property is always a great idea. Whether you live on one side of the property and have tenants on the other or if you rent out both sides, either way, it's a solid investment. As with any investment property, always do your due diligence when it comes to the rental market and which neighborhoods are more desirable to potential tenants. It's also popular for parents to rent out one side of a duplex to their kids. Since more and more kids refuse to leave their parent's basements, moving into one side of a duplex is both a great kick in the pants and a good way for parents to have their basements back.
Search all Calgary Half Duplexes and Attached Homes here
YYC Real Estate
It's a great time to enter Calgary's housing market and become a homeowner. And if you're not ready to enter the market but are planning on doing so in the near future, remember to consider the YYC classic: the half-duplex. Whether you're looking to buy your first home, purchasing an investment property or you want to know where you stand in the current market, feel free to contact me today at [email protected].