Should You Buy a Fixer Upper in Calgary?
Posted by Kelly Kernick on Tuesday, May 30, 2023 at 10:36:05 PM
By Kelly Kernick / May 30, 2023
Comment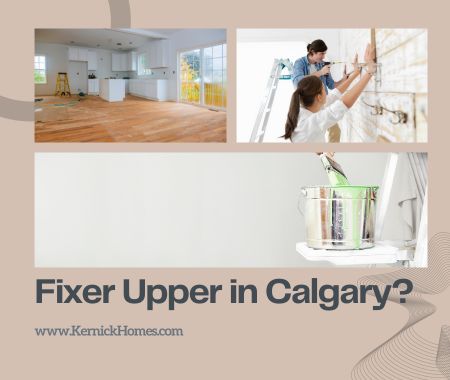 Online influencers and home renovation shows have popularized the idea of buying a home that is in need of major updating. There are plenty of benefits to buying a fixer upper, whether you are looking for a family home in Calgary to make your own or you are focused on affordability and a fixer upper seems like the best financial deal.
Before deciding if a major renovation is right for you, consider these pros and cons of buying a fixer-upper in Calgary.
Benefits of Buying a Fixer Upper
There are a few major pros to buying a fixer upper.
1. Save money
The most obvious perk of buying a fixer upper is the chance to save money. A fixer upper can be an affordable home in Calgary, allowing you to purchase the home for a lower price than comparable properties in the area and invest your time and effort into transforming it.
Whether you do the fixing up yourself or hire professionals, you can control when you invest and how much you invest to create the home you want over time and according to your budget.
2. Make the space your own
When you buy a turn key property, while it is new and nice it is unlikely that it will be designed exactly the way you would have chosen. On the other hand, buying a fixer-upper means having the chance to choose the design elements and finishes that best suit your budget, lifestyle, and personal aesthetic. You can decide where to prioritize durability, entertaining space, one-of-a-kind design, or whatever else matters most to you.
3. Quickly build equity
You may have heard the term "sweat equity." This is the idea that with your hard work, you can add equity into your home more quickly than the passive increase in value that occurs over time.
Owning a fixer-upper is an opportunity to build equity more quickly than usual, adding significant resale and appraised value to the property through your renovations. If you are doing the work yourself, you will likely build more equity than the amount you have invested.
Drawbacks of Buying a Fixer Upper
There are also some cons to be aware of when choosing a fixer upper.
1. Unpleasant surprises
Even with the most honest and accurate estimate possible, many fixer upper projects will come with some unpleasant surprises. There is no way to fully assess the condition of a home before you buy it and get to work, with potential problems hiding behind the walls or beneath the floors.
2. Unpredictable timelines
The timeline of your fixer upper renovation is always going to be tentative. It might change based on supply chain issues, weather delays, or changes in your own schedule that limit how much you can work on the projects. If you are on a strict, tight timeline, a fixer upper might not be right for you.
3. More work than you expected
If you are new to renovating, make sure you take some time to talk with friends or colleagues who have gone through the home improvement process a few times. It is more helpful to talk with real people and hear their stories than it is to watch home improvement TV shows or scroll through a blog; try to get an accurate picture of just how much work will be involved.
The Bottom Line
The list of pros and cons of buying a fixer upper can go on and one. The bottom line is this: if you are looking for an affordable home in Calgary that you can make your own, and you don't mind the hard work and potential stress of a renovation, buying a fixer upper can be the perfect way to own the home you want.
Want to learn more about finding affordable homes in Calgary? We can help. Contact us any time to get started.