Should I Buy a Foreclosed Home in Calgary?
Posted by Kelly Kernick on Thursday, December 22, 2022 at 10:50:47 AM
By Kelly Kernick / December 22, 2022
Comment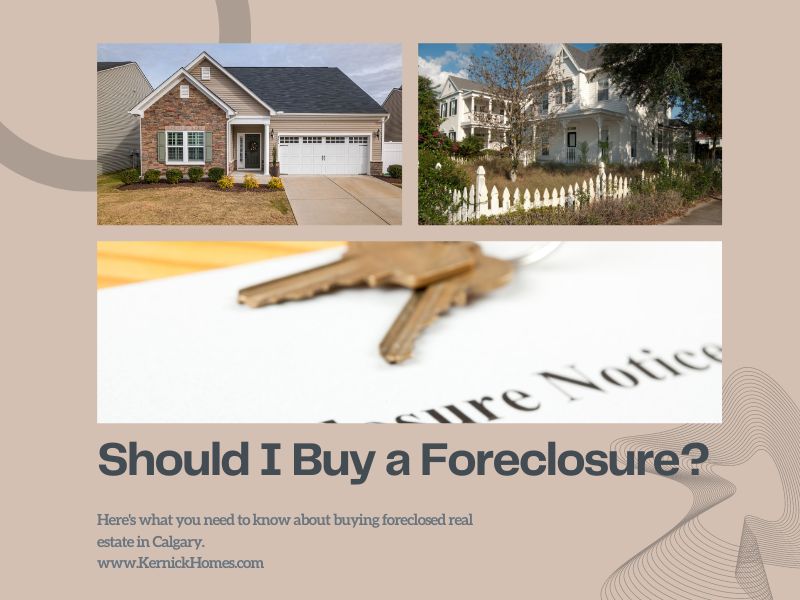 Buying a home in foreclosure can present a unique opportunity to get a great price and move quickly on a purchase. This type of real estate deal comes with its own unique considerations, so make sure you are leaning on the help of your team of experts to ensure a smooth process.
We would love to help you find the home you are dreaming of, whether it is a foreclosure for sale in Calgary or something else. Contact us any time to get started!
To learn more about buying foreclosures in Calgary, consider these pros, cons, and tips.
What is a foreclosure?
When a home is listed as a foreclosure, it means the current owner has fallen far enough behind on mortgage payments that the lender is pursuing legal action to sell the asset to recoup some of their loss. The sale is made by the bank, not the current owner/resident. Though the foreclosure process can be reversed, this is extremely rare. In most cases, once a lender has spend the resources to move into foreclosure, they will be highly motivated to sell the property and minimize their losses.
Reasons to Buy a Foreclosure in Calgary
Buying a foreclosure has a list of benefits, and is often the way someone can buy their ideal property. Benefits of buying a foreclosure include:
Getting a lower purchase price than comparable properties, possibly even lower than initially listed. Every day the home stays in foreclosure without being sold costs the bank money, so they are likely to be motivated to accept lower offers to minimize their losses and move on.
Liens, backdated taxes, and outstanding mortgage payments on the property will be canceled, so the new owner is purchasing a clean title.
The lower purchase price can be used to flip to renovate the property.
In some cases, foreclosures can be purchased more quickly than other homes, due to a motivated bank that wants to move quickly. It is also common for a foreclosure to already be vacant, meaning move in dates are not dependent on current residents moving out.
Cons Related to Foreclosures in Calgary
While there are many benefits to purchasing a foreclosure, there are a few things to be cautious of as you consider this type of deal. Some things you should take into consideration include:
Buying a foreclosure means purchasing the property as is, and being responsible to bring it up to Alberta Health Services standards. Be sure to hire a home inspector before purchasing to have a good idea of what repairs will be required.
Banks do not offer warranties or guarantees on foreclosed properties. You should be mentally and financially prepared to handle any problems you discover after purchase.
While you can get a lower price, you are also likely to be competing with multiple other buyers. Foreclosures that have an ideal location are popular with investors, so be prepared with your best offer.
Where to Find Foreclosures in Calgary
Because foreclosures can be competitive in the Calgary market, the best way to find the right property for you is to identify your budget, location, and any other criteria and let us know what you are looking for. With mortgage pre-approval and a clear understanding of what you want and what you are ready to pay, we can work together to move efficiently and find your home.
Ready to begin the search for your ideal property in Calgary? Contact us any time.