Should I Buy a Condo in Calgary for Retirement?
Posted by Kelly Kernick on Friday, September 8, 2023 at 8:51:10 PM
By Kelly Kernick / September 8, 2023
Comment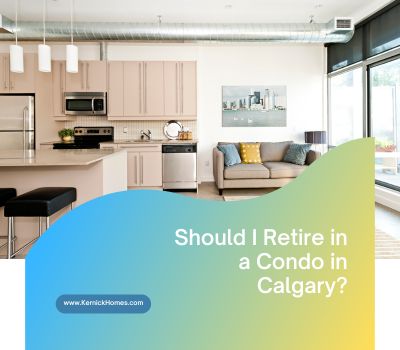 Retirement is the perfect opportunity to make a lifestyle change, and often brings with it the opportunity to choose a new home. One significant decision that many retirees contemplate is whether to downsize their living space, with condominiums being a popular choice. In Calgary, this trend is gaining momentum as retirees seek to simplify their lives, reduce maintenance responsibilities, and potentially unlock financial benefits.
If you are looking at condos for sale in Calgary and wondering if they are the right choice for you, we are here to help. Contact us any time, and keep reading for more information.
Benefits of Downsizing to a Condo for Retirement
There are many benefits of downsizing into a condo in your retirement years. These are some of them.
Financial Freedom and Stability
One of the primary benefits of downsizing to a condo in retirement is the potential for significant cost savings. Condos are often more affordable than single-family homes, both in terms of the purchase price and ongoing maintenance costs. This can free up funds for travel, hobbies, or other retirement goals.
Low-Maintenance Lifestyle
Condo HOAs typically include services like exterior maintenance, landscaping, and snow removal, relieving you of these burdensome tasks. This maintenance-free lifestyle can allow you to enjoy your leisure time without worrying about home upkeep, making the most of your retirement years.
Condo living is ideal for retirees who enjoy travel. Lock-and-leave convenience means that homeowners can easily secure their property and set off on adventures without worrying about maintenance or security concerns.
Security
Many condo buildings in Calgary offer security features such as gated access, surveillance cameras, and on-site personnel. This can provide peace of mind, especially for those who travel frequently, live alone, or spend extended periods away from home.
Community and Social Interaction
Condo living often fosters a sense of community. Shared amenities like fitness centers, lounges, and outdoor spaces provide opportunities for social interaction with neighbors.
Reasons a Condo Might Not Be Right for You in Retirement
A condo is not the right fit for everyone. To make sure you are happy with the home you choose, consider these drawbacks to condos and whether they might mean a condo is not the right choice for you.
Less Space
Downsizing means sacrificing living space. If you have grown accustomed to a large home with multiple bedrooms, a spacious yard, and a workshop or hobby room, the transition to a condo might feel cramped and limiting. For some, it is liberating and relaxing to have less to care for, but take the time to consider whether this will be the case for you.
Lack of Privacy
Condo living often entails proximity to neighbors, shared walls, and common areas. If you highly value your privacy and solitude, you may find this aspect of condo life challenging.
Limited Control
Condo owners are subject to rules and regulations imposed by the condominium association or strata. These rules may restrict activities, pet ownership, or exterior modifications, which can be frustrating for retirees who value autonomy.
They may also have limitations on personalization, such as restrictions on painting walls, installing fixtures, or landscaping balconies. This can be a drawback if you enjoy customizing your living spaces or hope to renovate.
Special Assessments
In addition to monthly fees, condo owners may face unexpected special assessments to cover major repairs or upgrades to the building or common areas. These assessments can be costly and disruptive.
Pet Policies
Some condo buildings have pet policies that limit the number, size, or type of pets allowed. These restrictions can be a deal-breaker if you have a pet you love, or plan to adopt one in your retirement years. Make sure to get the detailed information you need about condo regulations for each property you are considering.
Ready to begin the search for your Calgary condo? Contact us any time.