Reasons to Buy a Calgary Townhome
Posted by Kelly Kernick on Wednesday, November 23, 2022 at 5:13:23 PM
By Kelly Kernick / November 23, 2022
Comment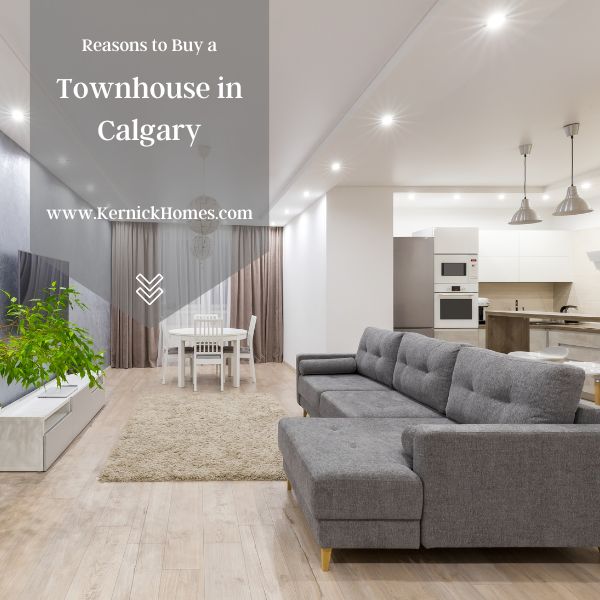 Choosing between a single family home and a townhouse can be difficult, with so many pros and cons to weigh. Townhouses in Calgary are a popular choice for anyone looking for a low maintenance alternative to owning a house, and they come with quite a list of perks. If you're deciding what time of homes for sale in Calgary should be on your list, consider these reasons to buy a townhouse.
Ready to begin searching for your ideal property? We are ready to help. Contact us any time to learn more.
In the meantime, think about these top reasons to buy a townhouse in Calgary.
Access to Amenities
A townhouse community is likely to feature community amenities. This will mean in exchange for community association fees, you can enjoy access to amenities without begin responsible for the upkeep of them. While each community's amenities will differ, it's common to find:
Fitness centers
Pools
Lakes or ponds
Walking paths
Green space
Playgrounds
Community centers with social events
Some of these amenities will also be present in single family home communities, but in general they are more common in townhouse communities. They are also more likely to be more affordable in a townhouse community. The space you will sacrifice in a personal lawn will be supplemented with the community facilities that can be used to entertain or just relax with the family.
Low Maintenance Lifestyle
The low maintenance perks of living in a townhouse are one of the top reasons people consider it. In contrast to the responsibilities associated with living in a single family home, townhouse owners never have to spend their weekends doing yard work. The community associated will handle landscaping, so that you can enjoy the look of a well maintained lawn and garden bed without putting in any of the effort required to keep them going.
If your schedule or physical ability might make dealing with outdoor maintenance a stressful factor in your life, living in a townhouse is likely to come as a major relief.
Increased Security
Many townhouse communities in Calgary include security features like gated entry or security staff. There are some inherent security perks in a community like this, too, where crime is already deterred by the number of witnesses around when you aren't home. Most townhouse communities also feature well lit parking areas and community space, another natural deterrent to criminal activity.
Built-In Community
Meeting your neighbours will be easy with so many nearby. Residents of townhouse communities often find it easy to connect with their neighbours, especially in communities that feature pools, fitness clubs, playgrounds, and social events. If you are looking for a place with a built-in community where it's easy to meet new people, a townhouse may be the ideal fit for you.
Location
When you broaden your home search to include townhouses in Calgary, your location options will also likely increase. Some locations may be more difficult to get into when you are looking for just a single family home, with a higher demand or only a small inventory available. The affordability and efficient use of space features in townhouse communities often means access to locations that otherwise were not an option for you.
To begin the search for your townhouse in Calgary, contact us any time!