Pros and Cons of Living on Acreage near Calgary
Posted by Kelly Kernick on Saturday, May 13, 2023 at 9:33:21 PM
By Kelly Kernick / May 13, 2023
Comment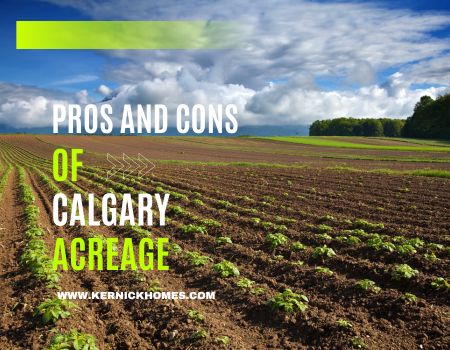 Calgary is a diverse city with a wide range of housing options. Whether you are looking for a modern townhome in the heart of the downtown area, a luxury home in a family friendly suburb, or a house on lots of land, we can help you find a home for sale in Calgary that is the right fit for you.
If you are considering buying acreage in Calgary, here are some pros and cons to keep in mind.
Pros of Owning an Acreage
Other than the obvious extra space and privacy it provides, there are many benefits of owning acreage.
Space for Animals
If you are dreaming of owning animals, buying an acreage in Calgary is the obvious next step. Create the lifestyle you are wanting, including any animals that are a part of your dream. Most Calgary acreages are not regulated by any HOAs and can be used the way you see fit, becoming home to horses, goats, or whatever else you have in mind.
Quiet Atmosphere
When you live on your own acreage, you can enjoy a private, quiet atmosphere. Set away from the noise and lights of nearby neighbours or streets, you can enjoy a more relaxed lifestyle and design your preferred atmosphere.
Flexibility for the Future
Owning acreage presents flexibility for your future plans. When you invest in land, you can choose how it is used in the future. This might mean building another structure on the property to become a workshop, income property, or home for an aging parent. You might also decide that selling a portion of your land in the future is the right move for you. The point is, owning acreage affords you with options you may not otherwise have as your needs or dreams change in the future.
Cons of Owning an Acreage
Owning acreage is not for everyone and there are some drawbacks.
Maintenance
The most obvious con is the work associated with owning acreage. Whether you do it yourself or hire someone to manage it, the maintenance associated with your land is a serious undertaking.
Take stock of how much time, budget, and energy you have to devote to maintaining your land, and consider how much work the properties you have in mind will require. Pay attention to various amounts of seasonal maintenance and potential repairs are likely to be necessary depending on the way the land is currently being used and the condition it is currently in.
Proximity to Amenities
While not always the case, many of the acreages near Calgary are located further away from amenities like parks, shopping centers, and public transportation that homes that are set in a suburban neighborhood on a smaller lot. If close proximity to these types of amenities is important to you, finding a home in a neighborhood may be the better fit for your preferences.
Neighbourhood Atmosphere
Most of the time, living on acreage will mean having your own space set apart from neighbours. This might be a pro or a con for you, but if you are hoping to have the neighbourhood atmosphere you may want to narrow your search to include only acreage that is surrounded by other homes.
Ready to begin the search for your acreage in Calgary? Contact us any time.