Plan a Fun Weekend Living in Airdrie
Posted by Kelly Kernick on Saturday, August 12, 2023 at 12:56:48 PM
By Kelly Kernick / August 12, 2023
Comment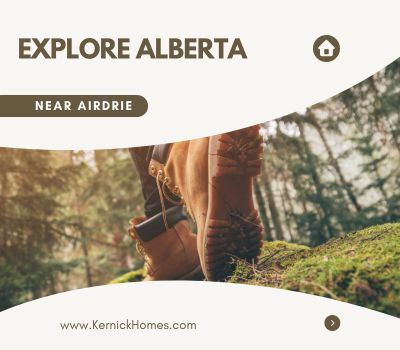 There are many satellite towns near Calgary that provide unique atmospheres, real estate markets, and settings to give Alberta residents options. If you want to live near Calgary for work or convenience, but don't prefer to live in the city, a satellite town might be the right solution.
Airdrie is one of Calgary's satellite towns, with a community of about 45,000 residents and a safe, family-friendly environment. It is located about 30 minutes north of Calgary, near enough for a reasonable commute into the city for work, entertainment, shopping, or travel. If you would like to know more about homes for sale in Airdrie, contact us any time.
Wondering what there is to do in and around Airdrie? Check out these fun activities, destinations, and day trips you can enjoy as an Airdrie resident.
Nose Creek Regional Park
Enjoy the outdoors at Nose Creek Regional Park, a scenic green space with walking trails, picnic areas, and a playground. The centrally located park also hosts events and festivals throughout the year. The 20 acre park is located in the Airdrie downtown core and boasts an amphitheatre, stocked pond for fishing, and more.
Iron Horse Park
This family-friendly attraction features miniature train rides and a railway-themed playground. The theme plays homage to the history of Airdrie as a railway village along the Calgary-Edmonton line. It's a great place for kids and train enthusiasts to learn and have fun. Admission to Iron Horse Park is free, and there are train rides available for purchase.
Airdrie Farmers Market
Visit the farmers market to explore local produce, handmade crafts, and artisanal goods. It's a great way to support local businesses and find unique items. If you are looking for a connecting point with your community, the Airdrie Farmers Market is a great place to start.
Bert Church Live Theatre
Bert Church Live Theatre is a 377-seat venue located in the heart of Airdrie. Enjoy live performances, concerts, and cultural events at this community theatre. It's a hub for entertainment and creativity in Airdrie, offering a beautiful combination of world-class performance and small town charm.
Airdrie Festival of Lights
During the holiday season, don't miss the Airdrie Festival of Lights, a magical display of Christmas lights and festive activities. It is Canada's largest free light display, set in Nose Creek Park in downtown Airdrie. Bundle up with a warm drink to walk through the impressive and festive display.
Take a Day Trip
Airdrie's convenient location means it is easy to access all kinds of places throughout Alberta, which are near enough for a day trip. If you are looking for somewhere to explore on your day off living in Airdrie, consider one of these.
Calgary
Airdrie's close proximity to Calgary allows for easy day trips to explore the city's attractions, such as the Calgary Zoo, Calgary Tower, Glenbow Museum, and shopping districts like Stephen Avenue.
Banff National Park
A bit further west, you can venture to Banff National Park for stunning mountain scenery, hiking trails, hot springs, and the charming town of Banff. Attracting tourists from around the globe, you will love having this natural phenomenon just a couple hours away. Just beyond Banff, Canmore offers outdoor activities like hiking, biking, and exploring its quaint downtown area.
Drumheller
Head east to Drumheller, known for its unique Badlands landscape and the Royal Tyrrell Museum, which showcases an impressive collection of dinosaur fossils.
Water Valley
This small village offers a peaceful escape with scenic surroundings, artisan shops, and opportunities for outdoor activities.
Elbow Falls
Visit Elbow Falls for a day of hiking and enjoying the natural beauty of the area. It's a great spot for a peaceful outdoor experience.
CrossIron Mills
Located near Airdrie, CrossIron Mills is a large shopping and entertainment complex featuring outlet stores, restaurants, and a movie theater.
Ready to learn more about living in Airdrie? Contact us any time.