New Build or Existing Home in Calgary?
Posted by Kelly Kernick on Saturday, September 23, 2023 at 1:40:26 PM
By Kelly Kernick / September 23, 2023
Comment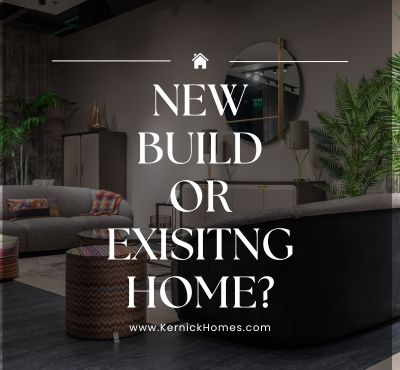 As you look at your options in the Calgary real estate market, you will quickly see that there are many brand new homes being built to accommodate regional growth. Deciding between a new build in Calgary and an existing home may have your head spinning, so we've got some information to help.
Contact us any time to learn more about homes for sale in Calgary, and keep reading to compare some of the advantage of new construction homes versus existing homes.
Advantages of New Build Homes in Calgary
Customization and Modern Features
One of the primary advantages of new builds is the ability to customize your home to your liking. You can often work with the builder to choose floorplans, finishes, and features that suit your preferences. This ensures you get a modern, personalized space that meets your needs. New homes also tend to come with modern amenities such as walk-in closets, open-concept layouts, larger kitchens, and more spacious bathrooms. These features can enhance your overall living experience.
If you are drawn to the idea of a custom home but it does not make sense for you based on your finances, timeline, or any other factor, a new build home in a development in Calgary can offer a semi-custom experience that is a great compromise.
Energy Efficiency
New homes are built with the latest energy-efficient technologies and materials, which can result in lower utility bills. Calgary's cold winters make energy efficiency a significant consideration, and new builds are often designed with this in mind. Many Calgary homeowners find that they want to update their homes to be more energy efficient, but a new build home has likely already checked that task off your list.
Warranties and Low Maintenance
In most cases, new builds come with warranty coverage that offers peace of mind. In Alberta, new homes are typically covered by the New Home Buyer Protection Act, which includes structural coverage and deposit protection.
These homes also require less immediate maintenance compared to older properties. You won't have to worry about aging infrastructure, outdated electrical systems, or plumbing issues. This can save you time and money in the early years of homeownership, all translating to less stress for you.
Less Competition
While not always true, in many cases buyers find it easier to purchase a new build. This is because there are often more options available that balance out the supply and demand.
Calgary's real estate market offers a variety of new developments, allowing you to choose from different neighborhoods, styles, and price ranges when opting for a new build. This may mean you have more choices than you will when looking for an older home.
Advantages of Buying an Existing Home in Calgary
Established Neighbourhoods
Existing homes in Calgary are nearly always located in well-established neighborhoods with mature trees, parks, and amenities. This means you can more accurately know the community atmosphere you will be living in, rather than having to imagine it as you will in a new neighbourhood. The established community can be a major selling point for many buyers who are looking to connect with neighbours, access amenities, and enjoy mature landscaping and a more scenic setting.
Character and History
Oder homes often come with unique character, architectural details, and a sense of history that new builds may lack. If you appreciate vintage charm, an existing home might be the right choice. Whether it's a charming little bungalow or a large house in a lake community, there are many options in the Calgary market that come with loads of charm and personality.
Move-In Ready
Buying an existing home often means a faster timeline. Unless you are comparing it to a move-in ready new build that has already been completed, the existing home is going to offer a much more efficient moving period. Rather than relying on builders, supply chain efficiency, weather patterns, and other unpredictable factors associated with new construction, an existing home is only waiting on the escrow process.
Ready to begin the search for your new home in Calgary? Contact us any time.