Location! Location! Location! What Calgary Next Means to Surrounding Areas
Posted by Kelly Kernick on Saturday, September 5, 2015 at 11:20 AM
By Kelly Kernick / September 5, 2015
Comment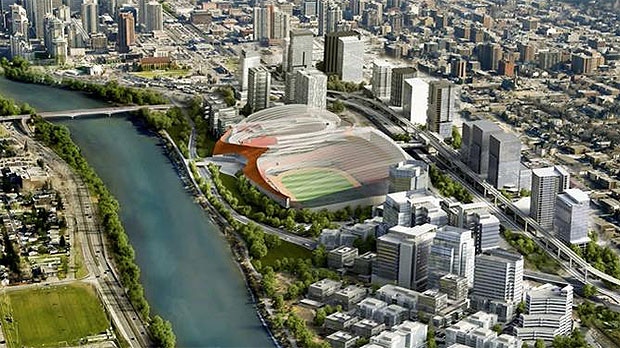 The city has been buzzing ever since the Calgary Flames proposed plans for a new hockey and football stadium located close to the beltline. The presentation did cause fellow Calgarians to collectively "ohh & ahh" over the potential new arenas, however, the plans also started what is sure to be a lengthy debate over who flips the bill. As the city and the owners begin to hammer out an agreement, many of my clients and colleagues are excited about what the state-of-the-art sports complex will do for properties near by.
The Calgary Next project won't just be a home for the Calgary Flames and Stampeders (the two main sports teams) but the facility will also hold a variety of events including large concerts. The Saddeldome is one of the oldest areas in the NHL and with Calgary being a major hockey city, we desperately need this new arena to ensure we continue to attract top players. The new indoor football stadium will pretty much guarantee that the Stampeders will never lose to the Roughriders ever again!
Currently the Greyhound Bus Station occupies the site where the new sports complex would be built. The Sunalta C-Train station would be a primary transportation hub in and out of the arenas.
Restaurants, bars and other developments will soon follow, if not run parallel with the construction. The future businesses that will open their doors and with the facility itself requiring a large staff, the beltline will become even more popular for renters that want to be close to work.
Our city skyline has vastly changed over the last decade and rivals other major metropolitan centers. Living downtown is becoming more and more popular, which is evident with the number of condo towers in production. Areas such as the following: Sunalta, Hillhurst, Kensington, Beltline and Sunnyside will all see property value increase. Investing in residential properties such as a condo in the above mentioned areas, will not only generate rental income, but the property itself will continue to appreciate and increase in value.
The Calgary Next project is further confirmation that Calgary is a world class city that competes with other global metropolises. In addition to the state-of-the-art sports complex, our city continues the trend of landing major corporation headquarters, most of which are found in the downtown core. The bottom line is that residential properties in areas close to the Calgary Next project have only one direction to go and that is UP. If you're looking for a great investment or you've always wanted to live downtown contact me at [email protected] today.