Living in a Lake Community in Calgary
Posted by Kelly Kernick on Wednesday, October 12, 2022 at 4:05 PM
By Kelly Kernick / October 12, 2022
Comment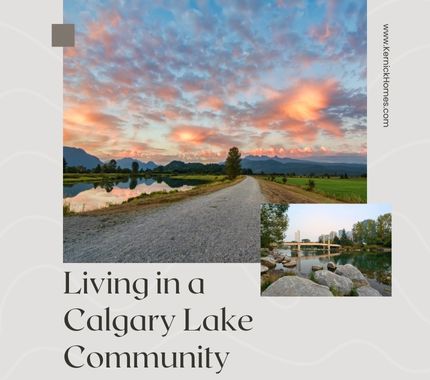 Calgary features multiple lake communities, with beautiful homes set around manmade lakes. Some community lakes are exclusively available to resdients, while others benefit the surrounding neighbourhoods, as well. Living in a lake community in Calgary means enjoying access to all the outdoor recreation opportunites the lake provides throughout the seasons, and you can count on a scenic atmosphere that won't be lost for development.
Interested in finding your ideal home in a Calgary lake community? We would love to help. Contact us any time to learn more.
Benefits of Living in a Calgary Lake Community
There are many perks to enjoy when you live in a Calgary lake community. Each community features its own amenties, but there are a few characteristics they all hold in common.
Enjoy scenic views of the water, whether directly from your own home or within a short walk. You can count on the view remaining, without worrying that development may overtake your favorite scenery. These communities are designed with the lake as a primary feature, meant to be enjoyed for generations to come.
Calgary lake communities provide the chance to enjoy the best of both worlds: access to urban amenities just a few minutes away in Downtown Calgary with the peaceful scenery one would find in a rural community.
Whether you are in search of a condo or towhome near the water, or you're looking for a lakefront estate, you will find a diverse array of lovely housing among Calgary lake communities. You'll find a bit more information on the unique features of each community below.
Lake Bonavista
The first Calgary lake community to be established, Lake Bonavista is a neighbourhood surrounding a 52 acre lake and a 25 acre park. The beautiful park features a 65 foot hill that is perfect for tobogganing in the winter, as well as a scenic waterfall.
Homes in the community were built in the 1960s, and many have been beautifully renovated in the years since. The community is known for being friendly and tight-knit, with easy commuting into Downtown Calgary and lake access exclusively available to residents.
Mahogany
The newest of Calgary's lake communities, Mahogany is an elegant master planned community with condos, townhomes, small single family homes, and large lakefront estates. At the heart of the community is a 63 acre lake, a beach with playground, a 22,000 square foot community clubhouse, 265 acres of park and green space, and an urban village complete with shops and restaurants.
There are some homes with immediate lake access, as well as a limited selection on a private gated island in the lake. Mahogany is capturing attention and winning awards as one of the best places to live in Calgary.
Auburn Bay
Located in Southeast Calgary, Auburn Bay is a popular lake community built around a 43 acre lake and 13 acre park. Over 20,000 people call Auburn Bay home, and enjoy access to a 13,390 square foot year round facility available for community events, weddings, and parties.
Homes in Auburn bay include condos, townhomes, and single family homes, all designed in a charming cottage style.
Chaparral
Chaparral was established in the 1990s and a is a family friendly community with something to offer everyone. The 33 acre lake is surrounded by a 22 acre park, beautifully landscaped and featuring a sandy beach, sports courts, and plenty of space to play.
Residents enjoy easy access to Fish Creek Provincial Park nearby, and the commute into Downtown Calgary is easy from the neighbourhood. Houses in Chaparral are located in a few sub-communities, some backing up to a scenic ravine, some offering lake access, and others located on quiet residential streets.
Lake Midnapore
Lake Midnapore is a 30 acre lake built in the 1970s, surrounded by beautiful mid century homes and tree lined streets. You will find a variety of housing styles in Lake Midnapore, including bungalows, 2 story homes, and split-level homes.
If you are interested in a lakefront home with a private dock, and limited selection are present on Lake Midnapore.
Sundance
Sundance is a community of beautiful homes surrounding a lake, which is exclusively available to residents for fishing, swimming, boating, and more. Established in 1980, the community is known for being family friendly and having a welcoming network of long time residents. The 33 acre lake is surrounded by a 22 acre park, where residents enjoy walking, playing, biking, tobogganing, and more throughout the year.
McKenzie Lake
This luxury residential community is perfect for those looking for a large single family home near a private lake. McKenzie Lake residents enjoy quick access to McLeod Trail and Deerfoot Highway, as well as 2 LRT stations. With a commute into downtown by LRT of just about half an hour, McKenzie Lake an ideal location for those who work in downtown Calgary and prefer a luxury suburban setting.
Arbour Lake
The only lake community in Northwest Calgary, Arbour Lake is a beautiful neighborhood surrounding a lake stocked with rainbow trout. A network of walking and biking paths winds through the neighbourhood, offering access to the hills and mountains surrounding the community.
Residents enjoy special community events throughout the year, making it easy to get to know neighbours and celebrate each new season.
Want to learn more about living in a Calgary lake community? Contact us any time to find out how we can help.