Is a Basement Walkout in Calgary Right for You?
Posted by Kelly Kernick on Tuesday, October 25, 2022 at 6:02:20 PM
By Kelly Kernick / October 25, 2022
Comment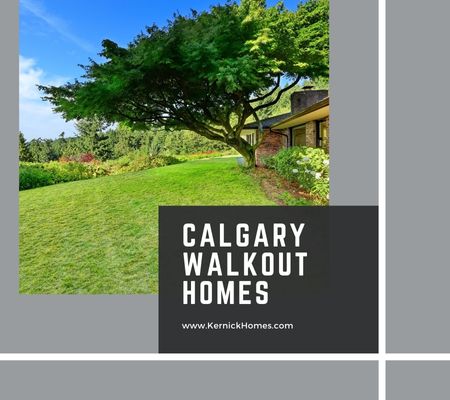 There are many neighbourhooods in Calgary that are nestled into the foothills, with the ideal terrain for a walkout basement. Calgary walkout homes provide the perfect solution to the dark and gloomy basement. Instead of a dreary lower level, walkout homes feature welcoming and usable space that benefits from an exterior entrance and plenty of natural light.
Looking for your dream home for sale in Calgary? We can help you find it. Contact us any time to learn more!
What is a Walkout?
A walkout home is one with a basement that is only partially underground. In Calgary, nearly all walkout homes are built in the foothills, where the topography makes it simple to have a basement that is under the ground on one side and open to the yard on the other.
The exterior entrance to a walkabout might be on the front or back of the house, and will vary in design. Many homeowners who have a walkout enjoy using the space as additional entertaining space or a way to offer privacy to guests or adult children by providing a separate entrance. Some designs also feature a walkout that is the primary suite, allowing the bedroom to have its own private terrace and abundant natural light.
An added benefit of a walkout basement is the way it protects the property. Some home builders purposely choose a walkout basement as a means of providing excellent water drainage. In a climate that experiences significant seasonal changes and precipitation, it's hard to put a price on the peace of mind that comes from an architectural design that was selected with the natural environment in mind.
Who is Best Suited to a Walkout?
There are many people who might love owning a walkout in Calgary. This efficient use of the property allows homeowners to maximize the usable square footage of the home, and is ideal for:
Private guest space
An income property, where the walkout basement can be its own apartment
Seamless indoor/outdoor entertaining space
Maximizing the usability of a hilly lot
Where Can I Find a Walkout in Calgary?
Calgary features many walkout homes because the mountainous topography is ideally suited for this design. You will find many walkouts in the neighbourhoods that are located in the foothills of Calgary. Whether you are in the market for a grand, spacious home with a walkout or something more petite and low maintenance, we would be happy to help you find one that suits every need. The largest concentration of walkout homes is found in North West Calgary.
Calgary walkout homes are available in a wide range of prices and in a variety of neighbourhoods. To learn more about finding homes for sale in Calgary, contact us any time!