Downsizing to a Condo in Calgary
Posted by Kelly Kernick on Wednesday, April 26, 2023 at 3:57:30 PM
By Kelly Kernick / April 26, 2023
Comment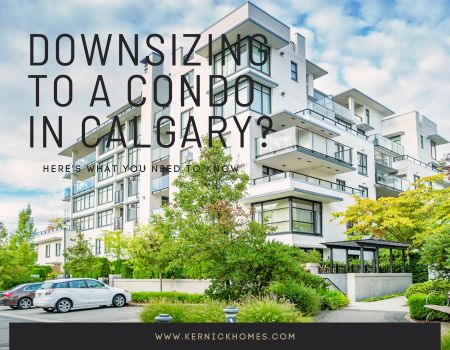 Whether you are looking to find a more affordable home that can free up some of your monthly income, you're ready for a lower maintenance living situation, or you simply do not need as much space as you once did, downsizing to a condo in Calgary can be a great solution.
To learn more about condos for sale in Calgary, contact us any time to let us know what you are looking for. We would love to help you find your new home in town.
Reasons to Downsize
There are many reason a person or couple might choose to downsize, including:
Becoming empty-nesters and no longer needing the same amount of space
Preparing for retirement and aging in place, looking for a home that requires less maintenance and upkeep
Desiring to spend less time managing yard work or cleaning a large home
Looking for a way to free up more cash to pursue other goals, like starting a business, allowing a spouse to become a stay at home parent, or saving more for retirement
Whatever your reason for considering downsizing, there are plenty of benefits you will enjoy. A larger house is not always the better choice; choosing the right home for you is a nuanced and complex decision.
Benefits of a Condo versus a Single Family Home
While a single family home can be a great investment and an ideal solution for some households, there are also many benefits to living in a condo. These include:
Close access to amenities, like fitness centers, pools, clubhouses, and other common areas.
Less time spent doing yard work, with some condos having zero to do at all.
Less square footage usually translates into less time spent on housework or less money spent hiring housekeepers.
Proximity to downtown Calgary or major attractions where single family homes in the area are out of your price range. You may be able to afford a condo in a neighborhood where a single family home is out of reach, enjoying closer access to restaurants and nightlife or a shorter commute.
Many condo communities feature exterior insurance that means anything that goes wrong outside is not your responsibility. This includes repairs to sidewalks, snow removal and other seasonal maintenance, repairs or maintenance for roofs and gutters, and more. Many homeowners find they are happy to pay a bit more in an HOA fee in exchange for not having to deal with these homeownership responsibilities.
Where to Find Condos in Calgary
You will find condos all throughout Calgary, in all four quadrants. To decide where is the best fit for you, consider whether you are looking for a more urban or suburban setting. Many Calgarians enjoy living in a condo that is near a C-Train stop, allowing them to limit their need for a personal vehicle, take advantage of community amenities, and leave exterior maintenance to the HOA.
If you are unsure about which part of Calgary you'd like to live in, we can help you explore different communities and identify the right condo for your lifestyle and budget. Ready to learn more about condos in Calgary? Contact us any time.