Choosing a Multi-Generational Home in Calgary
Posted by Kelly Kernick on Friday, September 15, 2023 at 6:52:48 PM
By Kelly Kernick / September 15, 2023
Comment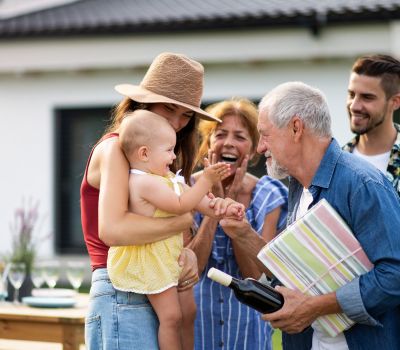 As our lifestyles evolve, so do our housing needs. In Calgary, the concept of multi-generational living is gaining popularity, driven by various factors that include economic benefits, cultural traditions, and the desire for stronger family bonds.
Multi-generational living can refers to a variety of living arrangements, but generally means households that include two or more generations living together under one roof. To accommodate this lifestyle, it's crucial to choose the right type of home.
If you are looking for homes for sale in Calgary that can comfortably accommodate your multi-generational living plans, we are here to help. Contact us any time to begin searching for your home, and keep reading as we explore the considerations and options for selecting the ideal multi-generational living space in Calgary.
Why multi-generational living?
Before you decide what type of home you are looking for, you need to decide why you are pursuing a multi-generational lifestyle. There are many benefits of a multi-generational home; consider which of these benefits are driving your decision to help you shape your wish list.
Economic Benefits
Rising housing costs and living expenses make multi-generational living an attractive option. In addition to the initial expense of buying the home and the predictable ongoing monthly expenses, emergency expenses and repairs can also be shared to reduce the load.
Combining resources can lead to significant financial savings for all family members involved. This is often one way to reduce the cost of housing and allow the family to live in a neighbourhood or area that would otherwise be too expensive.
Connection and Support
Many cultures have a long history of multi-generational living. It's a way to honor and support elders while ensuring close family ties. Parents may rely on grandparents for childcare assistance, making it convenient for all parties involved. Likewise, grandparents may rely on the younger generations for care as their needs increase with age. It can be a truly mutually beneficial living situation when all parties needs for connection and support are being met.
Environmental Concerns
Sharing a home reduces the environmental impact by using fewer resources per person. If you are looking for a way to be kinder to the planet, this can make a massive difference over the years.
What should we look for in a multi-generational home?
Before choosing a multi-generational home in Calgary, it's essential to consider various factors that can affect your decision.
Space
Assess the space requirements for each generation. Consider bedrooms, bathrooms, and common areas. Do you need separate living spaces, or can you share communal areas? A common concern among families looking to live together is the kitchen. Determine whether sharing a kitchen will work for you, or if it is better to look for a suited home that has two separate kitchen areas.
Privacy
Privacy is crucial for maintaining harmony within a multi-generational household. Think about how the layout of the home can offer private spaces for each generation when needed.
A popular solution is choosing a walkout home, where a semi-separate dwelling can be created with its own entrance, while still sharing the same property. This can be an ideal combination between sharing a home and living separately.
Accessibility
If you have elderly family members or individuals with mobility issues, look for homes that offer accessibility features such as ramps, wider doorways, and accessible bathrooms.
Even if this is not a current concern, consider your future needs and what might allow the entire family to comfortably live in the home.
Location
Calgary is home to a wide variety of beautiful communities. Consider the location that is right for your family. Ask yourself:
How long a commute am I comfortable with?
Do we want to live in a walkable neighbourhood?
What type of community amenities are important to us?
Do we want to live near a certain school, park, or community centre?
Consider the location in terms of proximity to work, schools, healthcare facilities, and public transportation. It should be convenient for all family members.
Ready to begin looking for the right home for your family in Calgary? Contact us any time.