Building Shelters & Providing Relief to Nepal
Posted by Kelly Kernick on Wednesday, September 30, 2015 at 11:15 AM
By Kelly Kernick / September 30, 2015
Comment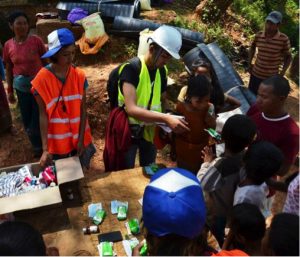 Earlier this year a friend of mine Raphael Smith was on a trek to Everest Base Camp in Nepal. The original plan was to help build a home with Habitat for Humanity after completing the hike; however, the build was cancelled after a massive earthquake devastated areas of Nepal. Instead of being discouraged by the cancelled build and flying home, Raphael decided to find a way to help families in the region. He reached out to people in his contact list and starting with his own money, coordinated a plan of action that would ensure that all funding raised would help families immediately.
Knowing that time is of the essence our team at Kernick Homes made a donation to help in the relief efforts that Raphael was managing. Read this week's blog to find out how far a dollar can go and how you can continue to help people in Nepal rebuild their homes.
After earthquake-devastated areas in Nepal earlier this year, the main priority of charitable organizations was to build and provide temporary shelters for thousands of people. With donated money, a volunteer project manager in areas like Gamcha was able to: purchase, deliver and construct a shelter for a family.
Some of the funds raised went to help in building 6 shelters that were built in Chandragiri, Milan Chowk and Chhaimale. Projects also included purchasing and delivering mattresses, mosquito nets and food staples to a village in Gorkha and Katteldand.
It's important to note that the funds are used for essential building materials. End walls and doors are left for families to complete, which can be built from readily available materials such as wood and bamboo.
These temporary shelters are the immediate priority, a majority of which have dirt floors, however, it's a major necessity as Nepal endures a lengthy rebuilding process. Money raised has also gone towards providing school supplies for children in Nepal, which brings much needed normalcy for kids affected by the earthquake. Funds raised through reputable organizations like the Canadian Red Cross will ensure that the people in Nepal are provided with food, clothing and shelter. For more information on donating to earthquake relief in Nepal click here.