8 Ways to Upgrade Your Builder Grade New Construction Home in Calgary
Posted by Kelly Kernick on Wednesday, July 12, 2023 at 6:44:57 PM
By Kelly Kernick / July 12, 2023
Comment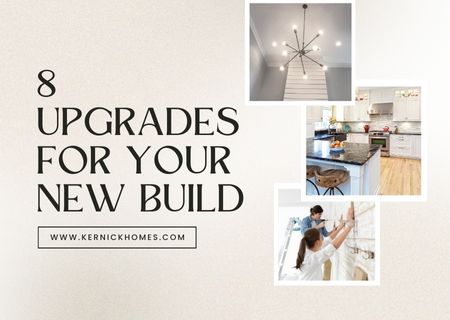 Buying a new build home in Calgary is a great way to get what you want in your budget, with many perks that come with living in a new residential development. However, some homebuyers in Calgary are hesitant to buy a new build because of the builder grade finishes that can make a home feel basic.
With these 8 DIY projects, you can take your builder grade home to the next level and make it feel more custom and high end. It's easier than you think.
1. Light fixtures
Upgrading your lighting is almost magical, instantly elevating your home's design. Look for fixtures that suit your personal style and make a statement, and consider adding dimmers or different light colours to more fully customize the lighting in the home.
Lighting is a feature of design that is often overlooked, but makes a massive impact on the way your home feels.
2. Washroom mirrors
Washroom mirrors are a dead giveaway for a builder-grade home, and tend to be pretty boring. This is an easy swap you can make to instantly elevate the design of your home.
Choose something with a frame that showcases your personal style. This is a great place to play with design, even choosing something bold that might feel like too much in a main living area.
3. Hardware
One of the fastest, easiest, and lowest cost upgrades you can do is swapping out builder-grade hardware in the home. Door knobs, cabinetry hardware, and hinges are all great places to make a quick and easy swap that elevates the design.
4. Faucets
A faucet upgrade is a great option for customizing your home, and it won't require much investment of time or money. Your kitchen or guest washroom faucets are great candidates for this upgrade, where you can set your home apart from the neighbour's in the spaces where the most people use them. A kitchen faucet, in particular, can be a piece of art that sets the tone for the room.
5. Interior doors
Some new construction home builders choose low cost interior doors that look like the cheaper alternative to a nice door. Consider setting aside some budget to replace your interior doors after move-in to make your home feel higher-end.
Because interior doors do not require weather stripping or an exact fit, this is a project that even a beginner DIYer can likely tackle themselves on the weekend. You might be surprised just how much this elevates the feel of the home.
6. Paint
Never underestimate the power of paint to elevate your home. Builder grade homes tend to offer the same limited selection of colour palettes to buyers, which means you will likely have a home with the same neutral wall colour as most of your neighbours.
Choose a design that is more uniquely suited to your style, and consider an accent wall or kitchen island cabinets as the right place for a pop of colour.
7. Molding
Molding is a great way to elevate a builder grade home and give it a custom, built-in look. Consider a chair rail in the dining room, crown molding in all the living spaces or the primary suite, or molding to accent architectural features in the home.
A similar effect can be achieved with beadboard or shiplap, adding texture and visual interest. These are all features that can be added yourself with some minimal tools and supplies.
8. Wallpaper
Find a small space in the home to wallpaper, like the laundry room, pantry, mudroom, or powder room. Bold interior design choices like wallpaper help your home look individual, standing out in a neighbourhood where everything can begin to feel the same.
If wallpaper intimidates you, consider a removable peel and stick option that requires less of a commitment.
Ready to begin the search for a new build home in Calgary? We would love to help you find the right one for you, so contact us any time.