4 Reasons to Buy a Bungalow in Calgary
Posted by Kelly Kernick on Monday, September 26, 2022 at 3:39 PM
By Kelly Kernick / September 26, 2022
Comment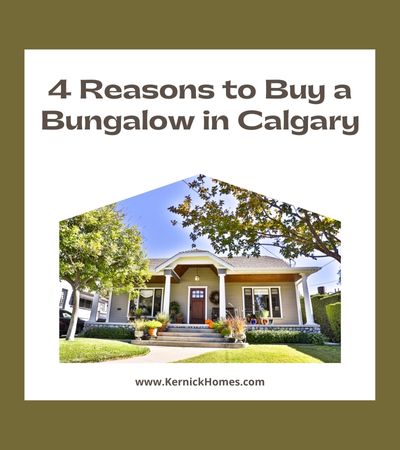 Many Calgarians enjoy living in bungalows, a single story detached single family home style that offers a classic look and a long list of perks. Suitable for a wide variety of homeowners, bungalows are widely available in Calgary and might be just right for you.
Keep reading for 4 reasons to buy a bungalow in Calgary.
What is a bungalow?
Before you think about buying a bungalow, you need to know what counts as one. A bungalow is a single story home, typically featuring a broad front porch and a low roof. In some cases, a bungalow will feature an upper room or two built into the sloped roof, technically adding an upstairs but without truly being a 2 story home.
The architectural style of a bungalow can vary a bit, but most bungalows for sale in Calgary feature classic design aesthetics. You will find many charming Craftsman bungalows in Calgary, a timeless look that you will love for years to come.
Some classic bungalow features include dormer windows, verandas, spacious front porches, and a sloping roof. While the origins of bungalows are in South Asia, the design has become quintessentially Calgarian, too.
Now that you know what counts as a bungalow, keep reading for 4 reasons to consider buying one!
1. Affordability
Bungalows are generally a priced similarly to townhomes and condos, making them some of the most affordable single family homes on the market. By definition, a bungalow will usually not be much larger than 1,500 square feet, though you will sometimes find a larger square footage in bungalows that have additional bedrooms set into the sloped roof.
The compact size and the efficient use of building materials make bungalows some of the most affordable single family homes in Calgary, just one of many reasons that they are a popular choice for those looking to purchase their first home or downsize for retirement.
2. Accessibility
The single story layout of a bungalow makes it inherently accessible. Even if there are some upper rooms, you can count on the essential elements of the floor plan being accessible without stairs. The kitchen, bathrooms, at least a couple of bedrooms, laundry room, and main living space will all be located on a single story.
This makes bungalows perfect for those with limited mobility, or those who are planning to welcome an aging parent into the home. While you will find many bungalows that have stairs up to the entrance of a home, installing an exterior ramp is likely to be the only renovation required to make a bungalow entirely walker or wheelchair friendly.
3. Privacy
For those who are considering a condo, townhome, or bungalow, the bungalow is the choice that will provide the most privacy. Calgary bungalows offer an ideal combination of the affordability of a condo or townhome with the privacy and outdoor space of a single family home.
When you live in a bungalow, you will be able to enjoy your outdoor space on the porch, back garden, or driveway, with privacy that comes from not sharing any walls with neighbors. Bungalows are also usually better suited to entertaining, generally located where there will be driveway or street parking and enough privacy to not bother neighbors with the sounds and aromas of your get together.
4. Child-Friendly Layout
Bungalows are an ideal choice for families with young children. The single story floor plan provides peace of mind to parents, who don't have to worry about a toddler falling down the stairs or finding the perfect baby gate. Many young families also love having parents' and children's bedrooms all located on the same story.
Want to learn more about buying a bungalow in Calgary? We would love to show you some of the charming Calgary bungalows for sale today, or answer any of your questions.
Start Searching for Calgary Bungalows Now